This has been one of my goals for 2017 where I wanted to submit at least one paper for VMworld 2017. I am glad that I could come up with two sessions and Arup on third session. All sessions will be presented by both of us.
The VMware content team just announced that public voting is now open and I would request you to spend a couple of minutes of your time to vote for my sessions and other which you would like to see in the upcoming VMworld 2017.
Session Titles:
Below are the details of the abstracts submitted for each session and what can be expected. Click on any of the session titles to cast your vote.
Procedure to vote:
Click here which will take you to the VMworld session catalog.
Click on Stars next to Session title.  It will redirect for the Login. If you have existing login credentials, please kindly log in and cast your vote. If you do not have an existing account, please kindly register with VMworld website and subsequently cast your vote for our sessions.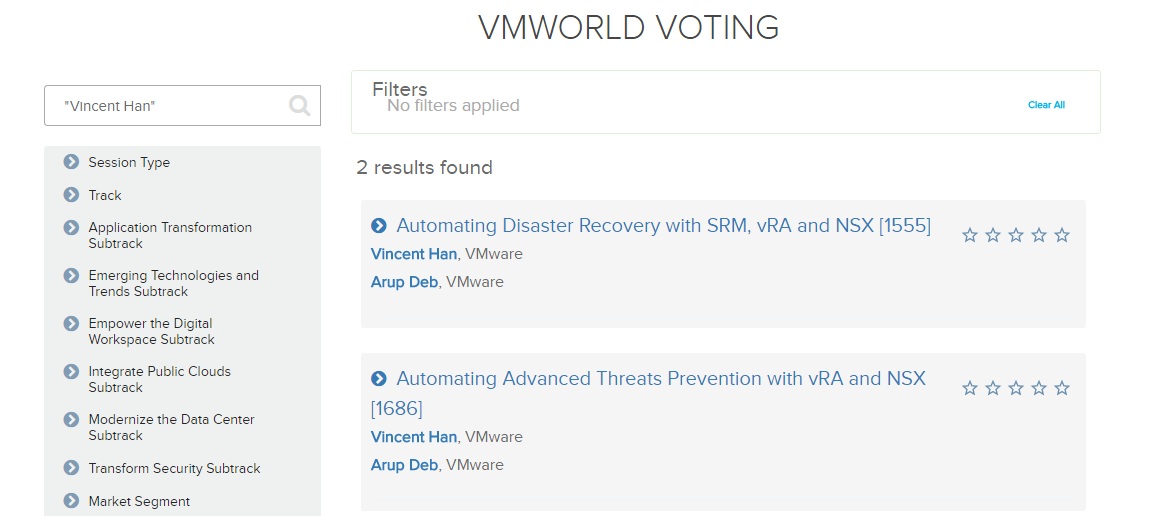 I sincerely hope that you will spend a couple of minutes of your time to vote for the sessions if you think these sessions would help you. Thank you very much.
Hope to make it to my first VMword in 2017!